The whole Earth is sacred, but there are some very special places where nature, culture and spirit meet. Natural spaces for prayer and meditation, for silence and healing, for rejoicing and renewing.
We believe that there is a growing need for these places in today's world, and an urgent need to help protect and keep them sacred.
We support the custodians of such sacred natural sites to manage them in the face of mounting threats so that their sanctity, and the wisdom and teachings that emanate from them, can be maintained into the future.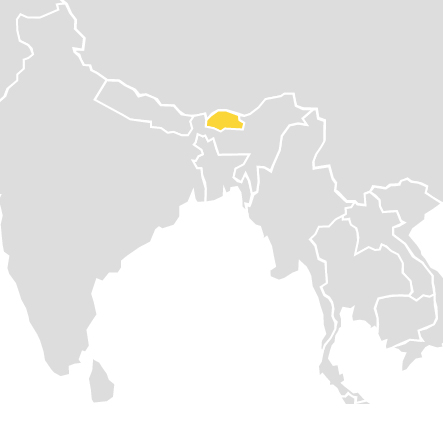 Bhutan
Bhutan's sacred places are integral to the cultural fabric of the country. For some years now we have been working with friends in Bhutan (Ministry of Home and Cultural Affairs and the National Museum, Paro) to develop a programme to ensure safeguard mechanisms for some of the most pristine sacred sites in the world. Our work here consists of inventorying, mapping and understanding the different types of sacred sites, and working on some specific sites to strengthen management.
For further reading take a look at: Asian Sacred Natural Sites: An Ancient Asian Philosophy and Practice with Fundamental Significance to Protected Areas.
"Bhutan is the last remaining Mahayana Buddhist kingdom in the Himalayas, shaped by the legacy of Guru Padmasambhava, also known as Guru Rinpoche and believed to be the second Buddha. This eighth century Tantric master defined the very ethos and essence of Buddhism as it is known and practised in Bhutan today. The influence of Guru Padmasambhava permeates every stratum of society and shapes the very landscape itself (…)
Many rocks, rivers, contains and cliffs are elements of Bhutan's sacred geography that serve a a testament of his exports during which he laid the foundation of the Buddha's teachings in Bhutan. These are the places considered as the most sacred Nye and, for centuries, they have influenced and moulded the pattern of Bhutanese worship, psyche and behaviour."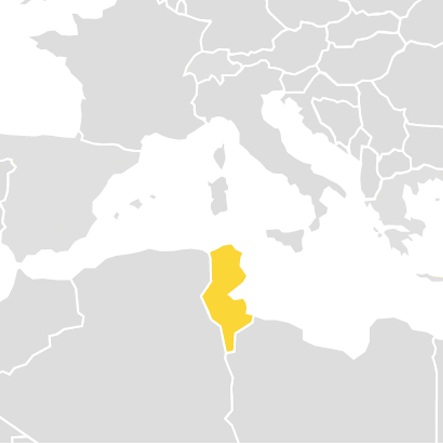 Tunisia
Thanks to a small grant from the Ford Motor Company Foundation, and along with our friends at WWF-North Africa, we have been able to start a small project on Tunisian Marabouts and their strong links to biodiversity conservation. As far as we know this has never been done before.
We have started, with the help of Tunisian plant experts, to look in detail at the plant diversity / integrity / primitiveness of two Marabout sites: Sidi Ali el Mekki in Ghar el Melh and Sidi Ibrahim in Cap Negro. In addition, Sana Mzoughi, our project lead, is developing plans to organise a cultural activity in the Marabout of Ghar el Melh, in collaboration with the Mediterranean Consortium for Nature and Culture. We hope to expand this project, not just in Tunisia, but in the whole North African region.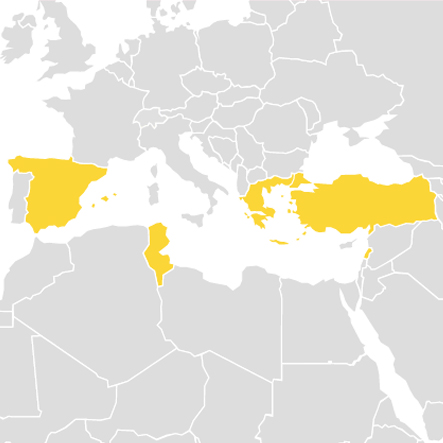 The Mediterranean
Sacred sites and religious tenure and influence appear in countless shapes and forms throughout the entire Mediterranean Basin. The impact on cultural landscapes and the practices that shape them is suspected to be highly significant, but we do not yet know to what extent.
We are looking at three ways in which the religions and spiritual traditions of the Mediterranean come together to support nature conservation:
Sacred natural sites (natural places of spiritual significance or built places – churches, monasteries etc. – within natural areas) and pilgrimage routes;
Religious tenure – lands and waters owned and governed by religious groups;
Religious / spiritual influence and outreach
DiversEarth is well placed to lead on such an initiative, where we can gather more scientific evidence that such places are important havens for biodiversity. A Mediterranean wide inventory and mapping, drawing on some existing (though limited) studies will be highly beneficial.
In terms of religious tenure and governance – establishing a clear picture of ownership and governance / management mechanisms, is critical to understand. For instance approximately 5% of the world's forests are owned by religions (ARC, 2014). The Catholic Church alone is amongst the world's biggest landowners with over 177 million acres worldwide.
And perhaps most vital of all is to be able to creatively engage faith groups and networks in the outreach and awareness raising across the basin of the importance of Mediterranean natural and cultural heritage and for a #ValuesShift. For instance the influence of Laudato Si' is inestimable and the time is absolutely ripe to help ensure that these words of inspiration are brought swiftly into action on the ground. By the same occasion the environment becomes a 'terrain d'entente' for promoting interfaith dialogue and cooperation, peace, reconciliation and unity in a time of division and crisis.
We will convene a network of religious leaders to support nature conservation in the Mediterranean.
2017 Events and Projects
Below are summaries of current projects. For in depth information contact liza@diversearth.org, or for past projects take a look at last year's annual report.
Sacred Species
Many religions and faith groups regard certain plant and animal species as sacred. These species possess or reflect some unique aspect of the divine. Examples are the Tulsi or the sacred basil (Ocimum tenuiflorum), which is sacred for the Hindus, the baobab tree (Adansonia sp.) is a sacred species for many indigenous groups in Africa or the olive tree (Olea europea) for the Judaeo-Christian traditions. We explore the relationship of different religions and their sacred species and the consequences for conservation today.
Sustainable Development Week with the University Of Geneva
DiversEarth was invited to take part in the University of Geneva's Sustainable Development Week.
Organised by the Students Association and Do It Yourself Geneva, the week long activities introduced themes related to sustainable development to youth through stalls, round tables, conferences, workshops, films, and meetings with local professionals, NGO's and international organisations.
DE took part with a stall that invited students to reflect on "Sustainable Development' by listening to sounds of nature. After all, true sustainability starts from within.
Earth Hour 2017

This year, DiversEarth took part in Earth Hour with a 1 hour guided reflection to help us remember our connection to the earth, led by our very own Liza Zogib.
We invited participants to turn off their lights, and remember that we are part of everything and that everything is us. To remember that all that we do has an effect, and that it is the responsibility of each and every one of us to protect our only planet.
Peace Pals 20th Anniversary Award Ceremony
DiversEarth is proud to work together with World Peace Prayer Society and IUCN to organise the annual Peace Pals International Art Exhibition and Award. This year's theme is « Nature for all  – Loving the Earth » and children from the age of 6 – 15 years from all over the world are invited to join the contest and express their ideas about peace and nature. The award ceremony will take place in Geneva this autumn.
Publications
DiversEarth is regularly approached to contribute to peer reviewed publications, particularly on sacred sites and spiritual values of nature. We contribute happily to the emerging literature that provides some of the needed outreach on these issues.
Zogib, L, Khenpo Phuntsok Tashi, Tshewang Gyalpo, Sangay Dendhup, Riamsara Kuyakanon, Kelzang Wangchuk, Ngawang Gyeltshen, and Lopen Namgay Tenzin (2016). Sacred Mandala: Protecting Bhutan's Sacred Natural Sites. In: Asian Sacred Natural Sites: An Ancient Asian Philosophy and Practice with Fundamental Significance to Protected Areas, Bas Verschuuren et al. Earthscan, Routledge.
Zogib L, Dudley N, Aziz T and Malla S, eds. (2012). The High Ground: Sacred Sites, Bio-cultural diversity and Climate Change in the Eastern Himalayas. WWF, Kathmandu.
Dudley N, Higgins-Zogib L et al. (2010). Chapter in Sacred Natural Sites: conserving Nature and Culture (Verschuuren, B, Wild, R, McNeely, J & Oviedo, G. Ch. 2, 19-31 (Earthscan, London, 2010).
Dudley N, Higgins-Zogib, L & Mansourian, S (2009). The links between protected areas, faiths and sacred natural sites. In: Conservation Biology. Blackwell Publishing, UK.
Dudley N and L Higgins-Zogib (2009). Protected areas and sacred nature: a convergence of beliefs. In Sacred Species and Sites: Guardians of Biocultural Diversity. G. Pungetti, G. Oviedo and D. Hooke (eds). Cambridge University Press, UK.
Higgins-Zogib L (2008). Dancing the Ramayana in Angkor, Cambodia. In: Protected Landscapes and Cultural and Spiritual Values. Josep-Maria Mallarach (ed.) 2008.Volume 2 in the series Values of Protected Landscapes and Seascapes, IUCN, GTZ and Obra Social de Caixa Catalunya. Kasparek Verlag, Heidelberg.
Higgins-Zogib L (2008). The Spiritual Dimension of Protected Areas: overlooked and undervalued. In: Protected Areas in Today's World: their values and benefits for the welfare of the planet. Secretariat of the Convention on Biologiccal Diversity (2008). Montreal, Technical Series no. 36.
Higgins-Zogib L (2008). Les aires protégées et les valeurs culturelles: sites spirituals et sacrés. In : La juste valeur de la nature : bienfaits écologiques, économiques, culturels et sociaux des aires protégées. Secrétariat de la Convention sur la diversité biologique. Mulongoy, K.J. et S.B. Gidda (2008). Montréal, 30 pages. (also in English and Spanish)
Higgins-Zogib L (2007). Une croissance qui menace la nature. In: Parcs naturels du monde. GEO Hors-série. Groupe Prisma Presse M01542.
Higgins-Zogib L (2006). Belief in protected areas: overlooking the spirit in conservation. In: Protected areas and spirituality. Josep-Maria Mallarach and Thymio Papayannis (eds) (2007). Proceedings of the First Workshop of The Delos Initiative, Montserrat 2006. Gland, Switzerland: IUCN and Montserrat, Spain: Publicacions de l'Abadia de Montserrat. 326 pp.
Higgins-Zogib L (2006). Sacred sites and protected areas: An interplay of place-views. In: Endogenous Development and bio-cultural Diversity. The interplay of worldviews, globalization and locality. Bertus Haverkort and Stephan Rist (eds). Leusden 2007.
Dudley N, L Higgins-Zogib and S Mansourian (2005). Beyond Belief: Linking faiths and protected areas to support biodiversity conservation; WWF/ARC; Gland, Switzerland