Roads Less Travelled is a global programme that aims to help mobile pastoralists around the world move freely through the landscape for nature, for the climate and for life and living. Our aim is to make the case for mobile pastoralism (transhumance, nomadic and semi-nomadic pastoralism) at a global scale, through new research, support to pastoral communities, and through creative celebration of their knowledge and ways of life.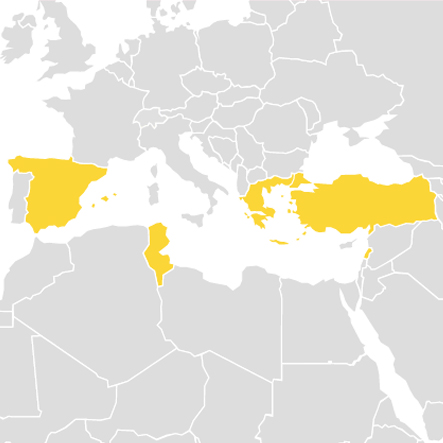 The Mediterranean
In the Mediterranean, in partnership with Yolda Initative,
Trashumancia y Naturaleza
and IUCN Mediterranean and with support from the MAVA Foundation and a myriad of local partners, we are working at Pan-Mediterranean scale to highlight the diversity of mobile pastoralist practices and their importance for biodiversity, climate change and cultural heritage. Our work in this region includes comprehensive mapping of routes, spatial analysis, links with key species, traditional ecological knowledge and celebration.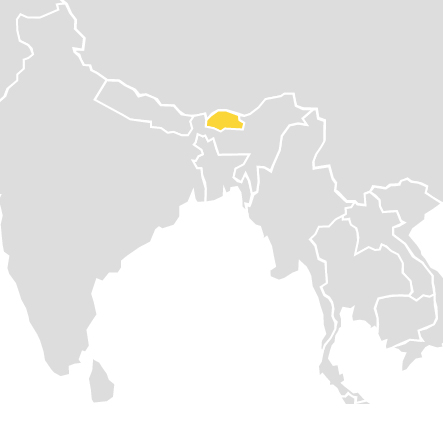 The Himalayas In the Himalayas, we are currently setting up new partnerships in order to get work underway. This region, with its many nomadic pastoralist groups, will take inspiration from work in the Mediterranean, while dealing with the complex challenges facing the nomads and their ways of life. One key dimension here will be to consider the spiritual aspects of the practice and create a network of support across the Himalayan region.
Towards an International Year of Rangelands and Pastoralism
With countless global partners, we are working in support of an International Year of Rangelands and Pastoralism. Excerpt from 'The Cancun Statement': Promoting Sustainable Pastoralism and Livestock Production for the Conservation of Biodiversity in Grasslands and Rangelands:
"We, the contributors to and participants of the COP13 Convention of Biodiversity side event 'World's Grasslands and Rangelands at Risk: the Role of pastoralists and Livestock to Conserve Global Biodiversity', organised by Instituto Potosino de Investigacion Cientifica y Tecnologia (IPICYT), Conservation International (CI), Food and Agriculture Organisation of the Unived Nations (FAO), Society for Range Management, International Land Coalition (ILC), International Livestock Research Institute (IRLI), International Rangeland Congress (IRC), International Grassland Congress (IGC), Coalition of European Lobbies for Eastern African Pastoralism (CELEP), Yolda Initiative, DiversEarth, and United Nations Environment Programme (UNEP): (…) declare that globally natural grasslands and rangelands are critically endangered and urgent action is required to protect and maintain the services they provide to sustain human life."
Cancun déclaration: 
https://drive.google.com/file/d/0B6qJcxU8A2KNbXBLLXJfMVVLc1U/edit
FAO: 
http://www.fao.org/pastoralist-knowledge-hub/news/detail/en/c/462196/
2017 Events and Projects
Below are summaries of current projects. For in depth information contact
liza@diversearth.org
, or for past projects take a look at last year's 
annual report
.
On The Move
On the Move is an exhibition of professional photography that celebrates the lives, challenges and ecological knowledge of mobile pastoralists in the Mediterranean region. It was commissioned by the Mediterranean Consortium for Nature and Culture and coordinated by DiversEarth. It has been travelling for nearly 3 years all over the Mediterranean and even further. The last stops were the ICUN World Conservation Congress in Hawaii and the UN Climate Change COP in Marrakesh.
www,onthemove-exhibition.com
Step Into Action
Organised by Geneva University's Department of Education and Euforia, Step Into Action was a week long event aimed at bringing awareness to students on issues of Sustainable Development. We were invited to participate, and as Switzerland has a long and deep history with mobile pastoralism, decided to hold a stall on the Winter Transhumance – also known as the Long Transhumance. Students were invited to sign up to spend a day with shepherds and their flock during the migration through the Swiss plains.
One Square Meter
One Square Meter, made by three very talented Spanish ladies, is a needle-felt sculpture made from Merino sheep wool highlighting the very tangible link between mobile pastoralism and biodiversity. In Spain it has been shown that one square meter of land where mobile pas­toralism occurs can house up to 40 different species of plants. We wanted to show this link in a very tangible and beautiful way. The idea was born from the energy between DiversEarth and Trashumancia y Naturaleza, our Spanish partners, who for the past 30 years have been reviving long distance transhumance. The project has been realised with great skill, hard work and modesty. It was shown for the first time in the On the Move photography exhibition at the World Conservation Congress and recently it made a guest appearance at WWF Spain's workshop "Dehesa Viva". Partic­ipants can't get enough of it and we are currently developing ways to expand this wonderful project in the future, linking it to the development of rural economies and the marketing of high quality pastoralist products.
A Day On Winter Transhumance
We started 2017 with a wonderful day in Gantrischt Natural Park, where family, friends, budding shepherds and fellow conservationists joined us to meet traditional Swiss Mobile Pastoralists and learn about their practice and way of life. Barbara and Markus Nyffeler have been raising and herding sheep for the last 25 years and we got a little glimpse of what their daily winter life entails – and the hard work involved in raising and managing an entire flock of sheep! Over a
home made soul-warming soup, surrounded by snow and some friendly sheepdogs, we learnt about the newly formed association for "moutonniers" (sheep farmers), that they don't put bells on their sheep as they prefer to traverse the countryside unnoticed, and that their sheep are mainly sold to restaurants and Halal butchers as they use the whole of the animal and waste very little.
Publications
DiversEarth is regularly approached to contribute to peer reviewed publications, particularly on sacred sites and spiritual values of nature. We contribute happily to the emerging literature that provides some of the needed outreach on these issues.
Zogib, L. (Ed.) (2013). A rapid assessment of cultural practices in the Mediterranean. Switzerland: DiversEarth & Mediterranean Consortium for Nature and Culture. Zogib, L. (Ed.) (2014). On the Move for 10,000 years: Biodiversity conservation through transhumance and nomadic pastoralism in the Mediterranean. Switzerland: DiversEarth & Mediterranean Consortium for Nature and Culture.